Crowns & Bridges for Lansing Patients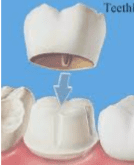 If you have teeth that are fractured, misshapen, or missing, Dr. Bechtel may recommend a treatment plan for implanting dental crowns or bridges to strengthen your teeth. Our Lansing-based holistic & biological dentistry specializes in these types of restorative procedures and can provide you with comprehensive dental care and treatment. We will take the least invasive approach and develop a holistic wellness treatment plan that allows you to regain full control of your dental health and enjoy a beautiful smile that lasts for life.
Dental Crowns & Bridges – A Brief Overview
Dental crowns and bridges are prosthetic devices that are attached to weakened, damaged, or missing teeth to improve the appearance of your smile and the function of your teeth, jaw, and mouth. Crowns and bridges are typically made of porcelain or ceramic and have a natural-looking, off-white color that allows them to mimic the look of real teeth. There is sometimes some confusion about the difference between crowns and bridges since they both have a similar purpose, but this is really quite a simple matter. A bridge is typically used to fill in a gap where one or more teeth are missing whereas a crown works more like a cap and is placed over an existing tooth that needs to be strengthened.
Dental Crowns
Dental crowns are used to treat teeth that have become weakened or damaged due to trauma, wear, or decay. These teeth typically have a distorted shape or are cracked, fractured, decaying, or altered from their original state in some way. However, it is also common for a crown to be used as an attachment device to hold a dental implant or bridge in place. Although crowns can be made of a variety of materials, such as gold, silver, or acrylic, the most common material used is porcelain. Porcelain crowns have a more natural-looking appearance and are regarded to be more aesthetically pleasing.
Dental Bridges
Much like the name suggests, a dental bridge is used to "bridge" – or fill in a gap – in an area where one or more teeth may be missing. Dental bridges consist of a system comprised of a false tooth that's accompanied by a dental crown on both sides. The false tooth fills in the gap and is held in place by the two crowns which are attached to adjacent teeth. Dental bridges can be used for both aesthetic and practical purposes, aesthetic being for an improvement in appearance and practical being for better function and to prevent teeth from shifting out of place.
Treatment Procedure for Lansing Patients
The total procedure time for dental crowns or bridges usually comes out to about three to four weeks and is conducted in two or more appointments. During your first appointment, Dr. Bechtel will work to stabilize your teeth and prepare them for the prosthetic device by removing a small outer layer of enamel. The doctor will then take an impression of your teeth which will be sent off to a laboratory for the fabrication of a permanent fixture. A temporary device may be attached to your teeth in the meantime. Once the fabrication of the permanent device is complete, it is sent back to our office where Dr. Bechtel will attach it to your teeth upon your return visit. Once in place, your crown/bridge can last a lifetime, provided that it is cared for properly.
We Offer a Holistic Approach With Minimally Invasive Biomimetic Dentistry for Lansing Patients
Bechtel Dentistry is committed to providing restorative dental services that uphold our holistic wellness standards. Dr. Bechtel and our team are honored to offer a biologic alternative to conventional crowns with minimally invasive restorations. Biomimetic restoration utilizes porcelain inlays and onlays as well as stress-reduced direct composite restorations that work together in restoring the biomechanics of damaged teeth. Traditional restorative treatments ranging from metal crowns to gold crowns, amalgam fillings, and porcelain-fused crowns don't offer the benefit of being minimally conservative.
Click here for more information about Minimally Invasive Biomimetic Dentistry.
Schedule Your Dental Appointment Today!
Dr. Bechtel and our Lansing, Michigan dental team are committed to providing exceptional care and empowering our patients with information about their dental health. If you have any questions about our crowns and bridges dental services or would like to schedule an appointment, we invite you to contact us at 517-882-7132. Our holistic dentistry offers comprehensive treatments that promote overall wellness for our patients living throughout Lansing, Holt, Okemos, Mason, Grand Ledge, Dewitt, Haslett, Williamston, St. Johns, Charlotte, Eaton Rapids, East Lansing, and Potterville.