Lansing's Number One Source for Smile Rejuvenation
Bechtel Dentistry specializes in smile rejuvenation, a minimally-invasive, holistic approach to restoring your smile. Our holistic & biologic dentistry strives to provide the most effective treatments for improving your chewing system function and aesthetics.
This pyramid represents a model for restoring or rejuvenating a mouth. The base of this model involves healthy gum and bone support around each and every tooth. This is critical to achieve first. A house built on sand will fail and the same thing can be said about teeth. Once the foundation is stable, then work can be done on the teeth themselves. Cavities and failing restorations can be replaced with restorations that repair the teeth to a state of good form and function. Once health has been obtained in these areas it is important to make sure the teeth can function in harmony as a system, so making sure the bite is in balance with your joints and muscles is critical to preventing the system from breaking down again in the future. Once the mouth is free from gum disease, decay, and the bite is in harmony with the rest of the body, then aesthetics can be created to obtain beauty and reverse the look of an aged dentition. 
Finally, these systems can all be tied into improved overall systemic health. Fixing one system before another is critical to building a solid long lasting foundation. This is a universal truth in nature which is why it works in the mouth. One of our primary missions is to educate you about what is happening with the different systems in and around your mouth (risk assessment) and what your options are and what the consequences of those options may be. We want to give you the choice to be as healthy as you can and want to be. Before you can choose though, you have to know what the current condition of your mouth is and what we define health to be. Then we can take you through a process of rejuvenation to get you to the level of health you desire, based on your risk factors and needs.
The Incredible Results of Smile Rejuvenation
We would like to introduce you to a patient in our practice, his name is Jurgen and he came to our practice in 2009 for our smile rejuvenation services.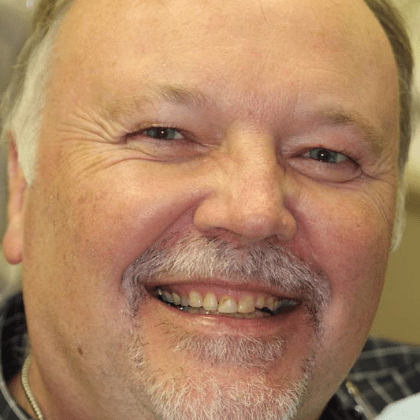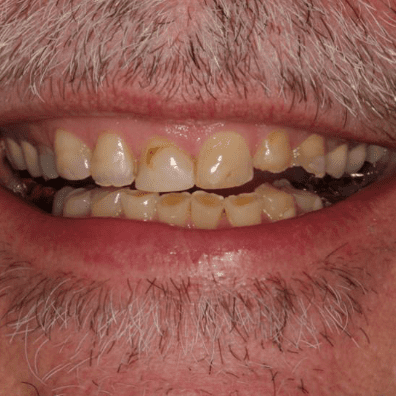 Before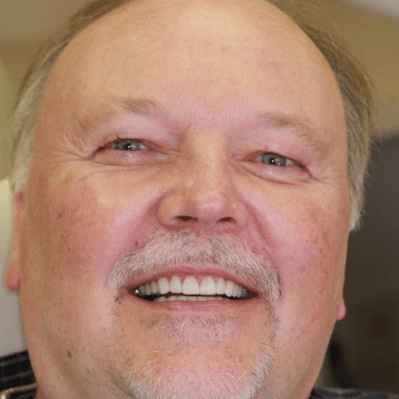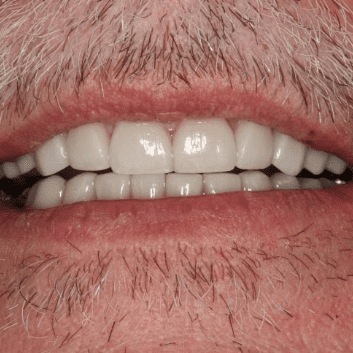 After
In talking with and working with Jurgen, we came to an understanding that the primary concern or risk factor that he faced was his Biomechanical risk. That is, that he had worn down and broken down his dentition through excessive use of his teeth. Once he became aware of his risk factors and the consequences of where his oral health was heading, he decided that his ultimate goal was not to end up losing his teeth. So we came up with a plan to rejuvenate what had been destroyed and most importantly address the cause of the breakdown so it did not return. We did this work back in 2012 and four years later it is still holding up beautifully. These pictures show Jurgen before and after the smile rejuvenation treatment. Our goal is to customize your treatment to your wants desires and needs and work with you not on you!
Schedule Your Dental Appointment Today!
Dr. Bechtel and our Lansing, Michigan dental team are committed to providing exceptional care and empowering our patients with information about their dental health. If you have any questions about our services or would like to schedule an appointment, we invite you to contact us at 517-882-7132. Our holistic dentistry offers comprehensive treatments that promote overall wellness for our patients living throughout Lansing, Holt, Okemos, Mason, Grand Ledge, Dewitt, Haslett, Williamston, St. Johns, Charlotte, Eaton Rapids, East Lansing, and Potterville.