Veneers for Lansing Patients
Many people who have a tooth or teeth that have been discolored, are crooked, maybe slightly small or oddly shaped can develop a self-image that was negatively impacted during childhood or adolescence. They often tend to hide their teeth while smiling. We can help improve that self image. Bechtel Dentistry specializes in cosmetic dentistry, offering services that uphold our holistic wellness standards. Veneers are a great conservative, biocompatible approach for restoring the beauty of your smile.
When we think of changing the appearance of a tooth, or several teeth, or to change a smile, a veneer becomes a great way to do this. The nice thing about veneering a tooth is that it can often be done in a very conservative manner so that not much if any tooth structure needs to be removed.
Teeth can be veneered in two different ways. One way is to use a composite resin to add material to the outer layer of the tooth to reshape or change the shade, size, or contours of the tooth. The other way to veneer a tooth is with a customized porcelain shell that is permanently bonded to the tooth.
Veneers can be used to correct many cosmetic concerns including:
Gaps or spaces between the teeth
Chipped, fractured, or broken teeth
Teeth with unsightly discoloration or staining
Genetically misshaped or undersized teeth
Rotated or crooked teeth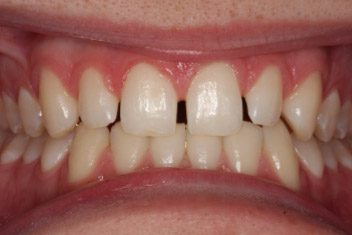 Before
After
Above is an example of some composite resin veneers that Dr. Bechtel completed on a patient that was concerned with the gaps and spaces between their front teeth.
Veneers are often a great way to correct aesthetic concerns without having to go through orthodontic treatment. Subtle improvements to your smile can be accomplished with veneers and typically can be done in one or two visits.
Schedule Your Dental Appointment Today!
Dr. Bechtel and our Lansing, Michigan dental team are committed to providing exceptional care and empowering our patients with information about their dental health. If you have any questions about our denture services or would like to schedule an appointment, we invite you to contact us at 517-882-7132. Our holistic dentistry offers comprehensive treatments that promote overall wellness for our patients living throughout Lansing, Holt, Okemos, Mason, Grand Ledge, Dewitt, Haslett, Williamston, St. Johns, Charlotte, Eaton Rapids, East Lansing, and Potterville.